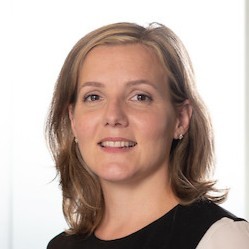 "Hello everyone, I hope you are doing well! Today, we have the pleasure to welcome a new special guest: Laurence de Rosamel – Debt Advisory Managing Director at Clearwater. Nice to meet you Laurence, first question, could you please explain to us your current position?"
Describe your current position
I am Laurence de Rosamel and I currently work in Investment Banking as a Managing Director at Clearwater in Paris. I advise companies on raising financing through different channels such as banks, insurance companies, private debt funds and capital markets.
At Clearwater Paris, around 35 bankers are working to deliver high-value financial advice to our clients. Among these people, five are specialized in financing advisory. We work either in joint mandates with the M&A teams or on a standalone basis when our clients are only looking to raise non-dilutive capital. Most of our deal flow is related to acquisition financing, growth financing and refinancing transactions. Our clients are generally mid-market companies which are looking to raise between €10m and €300m.
Why did you choose finance? How did you begin?
In high school, I was attracted to business schools and thus entered a French "Classe Préparatoire". But when my parents moved to the US, I decided to follow them and transfered to a BBA with a specialization in finance. I did a final year summer internship in Investment Banking because I wanted to learn a lot and was curious to experience what M&A was all about.
After graduation, I came back to France and realised that despite my degree and experience, I only had access to a limited number of opportunities in Investment Banking in Paris as I did not hold a Master. Thus, I applied to ESSEC for a postgraduate degree in Financial Techniques.
After ESSEC, I joined Rexel in the internal M&A team and after a year moved to DC Advisory (formerly Close Brothers) a Paris-based M&A boutique. I have been working in Midmarket Investment Banking ever since.
You have worked more than 10 years in the finance industry while many people give up after a few years, how could you explain that?
When I started in Investment Banking, I did not think I would last very long just like most of us out of Business School. If you had told me I would still be in the industry after 10 years, I would have never believed you. But in fact, time has flown incredibly fast and I was never bored. I think I am still here because I was lucky enough to always find new opportunities and challenges at every turn along the way.
Today financial institutions are struggling to hire enough young professionals and make them stay in the long-term. I think we should focus more on how to communicate about careers in the finance industry in a way that attracts the new generations. But also, we need to fully acknowledge that professional codes are changing and that we must take actions to further change the way we conduct business and manage teams.
What is your advice for young women in finance?
My advice for young women is mainly related to soft skills because technical skills can be learned. For me, the biggest hurdle for women in finance is a certain lack of confidence at times, which is not facilitating the fulfilment of their personal ambitions. Women should be bolder and not just rely on their accomplishments for their career evolution. Communicating extensively on your professional achievements is key, all your male counterparts do it so why don't you?
Portrait produced in June 2020 by Maude Culis-Féry, ESSEC Student and M&A Intern at BNP Paribas.
Next portrait
Stay tuned if you want to know more about Patricia Lormeau who is M&A Managing Director at BNP Paribas… Her portrait is coming soon.