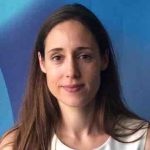 "Hello everyone, I hope you are doing well! Today, we have the pleasure to welcome a new special guest: Anne Tolmunen from AXA Investment Managers. Nice to meet you Anne, first question, could you please explain to us your current position?"
"Hello everyone, sure! I am currently a portfolio manager in the Global Equity Division at AXA Investment Managers. I invest in equities for institutional investors such as pension funds, my main customers."
"Look like a thriving job! But how could you get there, could you share with us your experience?"
"I may disappoint you, but I chose finance by accident. I studied at ESSEC in the general program. I did an apprenticeship at Arthur Andersen, which led me to apply to General Inspection at Société Générale, which is a team in charge of internal audit across all divisions inside the bank. I stayed for four years and discovered a large variety of jobs and locations. Then, I went to London where I had several offers from banks, but I eventually preferred to look for a job in asset management in which I was more interested. I joined the internal audit team at AXA Investment Managers aiming at joining the front office in the future. In parallel, I studied the CFA – a well-known professional certification that requires three years of study to pass. After one year and a half, I spotted an internal offer for being a project assistant to help merge the different asset management teams. I applied to this position despite lacking experience in this field in order to get close to asset management teams. I was right because twelve months after, I helped a portfolio manager following the departure of her colleague in maternity leave. Thanks to that, I could work with other asset management teams throughout the years. Ten years after, I am a portfolio manager with my own clients. I faced many challenges such as learning quickly financial analysis, improving my English in order to speak to institutional clients, in public conferences or to media, managing family life with three children and my overwhelming career."
"Impressive, so you should have one or two pieces of advice for young students?"
"First, do not be worried if you don't know precisely what you want to do in the future. Having a long-term ambition is a key but you should also be able to seize opportunities, stay open-minded and carefully use your qualities. Indeed, many future jobs don't exist for the moment, which means you should be ready to pursue studying when you'll be on the job. In addition, you should take risks and get out your comfort zone to manage a successful career. Finally having a good network is a key advantage! An understandable family and a husband who could help you in the house but also friends, colleagues and a great manager, who could be your mentor in your professional life."
Thank you for reading, I hope everything is fine in your family despite the current situation. See you soon for our next portrait.
Portrait produced in March 2020 by Maude Culis-Féry, ESSEC Student and M&A Intern at BNP Paribas.
Next portrait
Stay tuned if you want to know more about Jade Grandin de l'Eprevier who is Journalist at L'Opinion… Her portrait is coming soon.