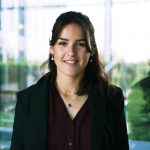 Dear readers, today I offer you a piece of advice from one of the most dynamic ESSEC students: Raphaëlle Paret from ESSEC Transactions. Please do not hesitate to click and visit the ESSEC Transactions Facebook page of the Finance Association of ESSEC Business School.

Describe your current position
I am a Master student at ESSEC and an audit intern at Ernst and Young in Luxembourg. I wanted to work in the audit profession to develop strong technical skills and in Luxembourg because I seized an opportunity to discover how it works in a different country from France. This year I am also the president of ESSEC Transaction, our beloved finance association! Throughout the year, this association organizes events to help students to discover corporate finance, as well as how financial markets work. Among examples, we set up conferences such as the Paris M&A Summit, meetings like "Women in Finance", or competitions like TradeXtre, job presentations or Case Studies training sessions. You can imagine that these events represent a huge amount of work, thus I am proud of the motivation of all members of this association, who give their time and passion without them this would not be possible!
What attracted you to finance and how did you get started?
My passion began in high school! Indeed, at that time, I was determined to enter a Classe Préparatoire, which is a French program dedicated to the preparation of the highly competitive entrance examination of the French business schools. I worked a lot to enter one of the best French business school: ESSEC. Since high school I knew I wanted to work in finance, but I notice that what I want to do in finance is still evolving while I am studying at ESSEC. I am interested in finance because it covers all industries. For me, finance is the spine of all businesses, so I would learn a lot about how companies work by studying it. Then, I could have opportunities in diverse business sectors across different countries!
A piece of advice for women interested in finance?
I am trying to make women to better know the finance world, through events such as "Women in Finance" meetings. Even within my association, parity isn't reached, thus it represents a real issue! Encouraging women, who are already interested in finance isn't tough because they are often highly curious and willing to attend conferences and ask professionals about their careers. It is more difficult to make other women curious about finance. So, I want to encourage these women to attend the gender event "Women in Finance" to discover the variety of opportunities within the finance industry. These women could also benefit from the extreme kindness of professionals, willing to share their experience as they themselves would have benefitted from such events at the beginning of their career.
Portrait produced in February 2020 by Maude Culis-Féry, ESSEC Student and M&A Intern at BNP Paribas.
Next portrait
Stay tuned if you want to know more about Aurélie Cohen who is the Head of Investor Relations at Euronext… Her portrait is coming soon.