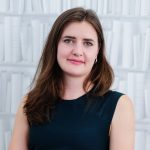 "Hello everyone, I hope you are doing well! Today, we have the pleasure to welcome a new special guest: Jade Grandin de l'Eprevier – Journalist at L'Opinion. Nice to meet you Jade, I have a few questions for you!
Describe your current job
I am a journalist at l'Opinion. Following my studies at ESSEC, I did internships at Les Echos, le Figaro and Le Monde newspaper before working at l'Agefi (a financial newspaper).
My job is to find subjects for the articles by meeting various people without precise objective just to understand what is going on, major trends, original and hidden stories, people's motivations, why someone is emphasizing this part of the story. Being a journalist doesn't mean being an expert but being able to reach the right person for each subject meaning being able to reach quickly people and convince them to speak to you while maintaining a neutral view.
Compare to other traditional ESSEC alumni path, journalism is close to consulting because it enables you to discover a broad variety of sectors, talk to senior professional from the business, political or social world.
Why are you interested in Finance?
At ESSEC, I was not particularly interested in Finance, in fact, I discovered Finance through my first internship at Les Echos. Indeed, I was an intern in the department that deals with the financial market. At that time, the only thing, I wanted was to be a journalist intern whether the subject was. Being a journalist in the financial market department was interesting because I understood the concrete aspect of finance. As finance is highly linked to the economy, I could cover a broad diversity of subjects on different scales: macroeconomics, microeconomics, international, local, on companies or individuals.
Another thing I like as a financial journalist is the challenge to be understood by readers on a difficult subject. This requires finding a pedagogical approach and original ideas to keep readers interested in the article.
What would be your advice for young professionals in the finance sector?
First, you should choose carefully your internships. Internships are valuable because relatively easy to find including in companies, which have the reputation to be unachievable. Thus, you should apply to companies that you dream of without considering other criteria such as wages or future professional opportunities. This is the right time to be ambitious! A sector in which you are interested in but that intimidates you should be experienced to break the fantasy (positive or negative) as my ESSEC mentor Marc Grassin said. Internships are the best tool to meet people and broaden your network that will be useful in your professional life.
My second advice is linked to the first one, you should pay attention to your behaviour during your internship. Behave as the employees, be as autonomous and responsible as they are. At the same time, don't hesitate to ask for advice or feedback because it is too rare to hear them while they are needed at the beginning of your career to make progress faster. Nobody will blame you because you are indeed a beginner. Don't hesitate to change the field or company if you don't thrive. Price each of your professional contacts because opportunities could come as a surprise or rely on somebody you met and you had positively impressed.
Portrait produced in May 2020 by Maude Culis-Féry, ESSEC Student and M&A Intern at BNP Paribas.
Next portrait
Stay tuned if you want to know more about Laurence de Rosamel who is Debt Advisory Managing Director at Clearwater… Her portrait is coming soon.